Accentuating your wall with a playful wall mural is the most straightforward DIY project you can undertake to make a statement. In fact, all you need is paint, a few brushes, some painters tape and a little imagination. Not only can these impactful interior design elements add a fun and personal touch to any room, but they also allow for total free rein so you can show off your true artistic self.
If you're looking to get creative, here we show you one example of how to effortlessly create a magical city skyline for your kid's bedroom.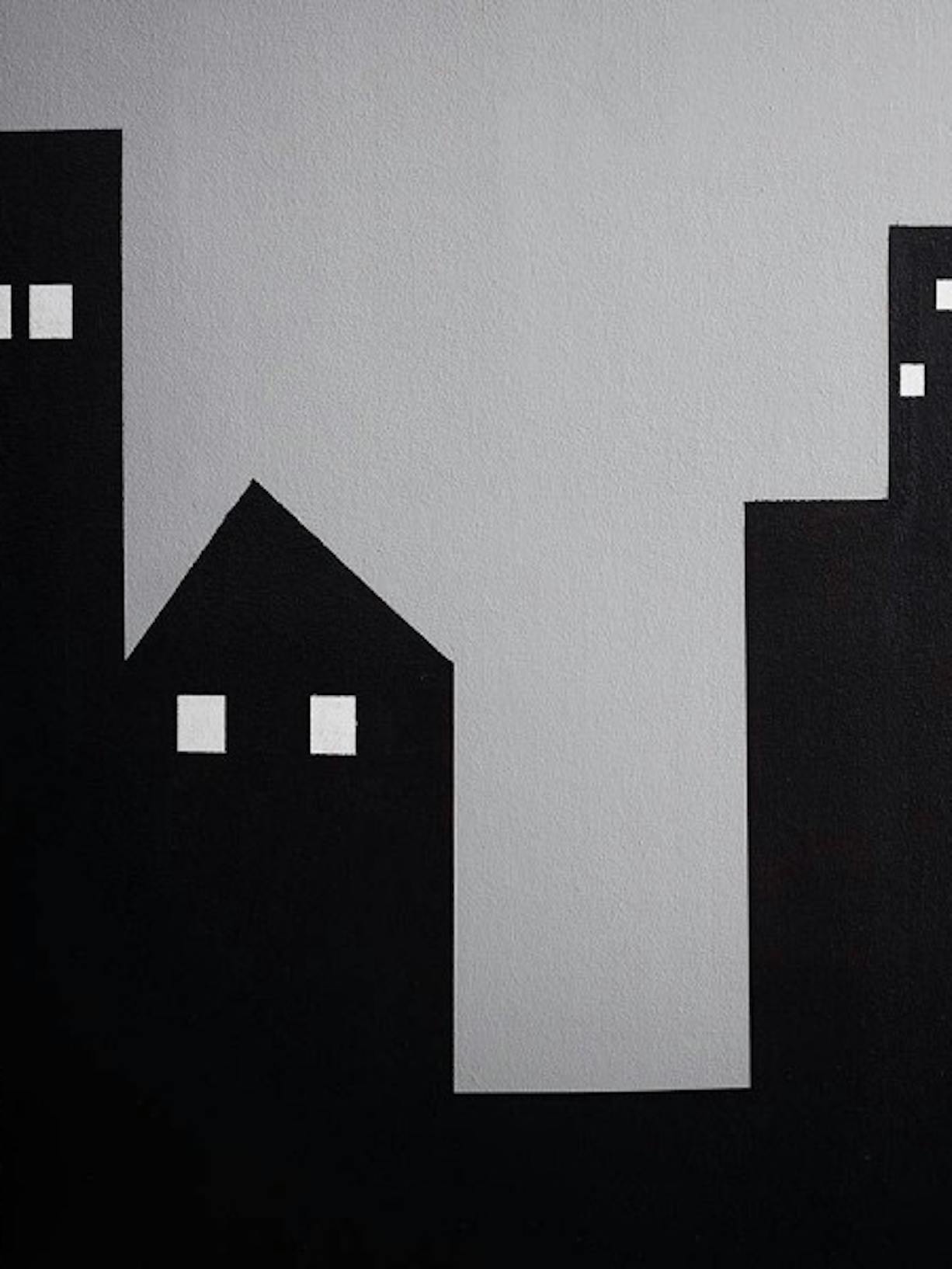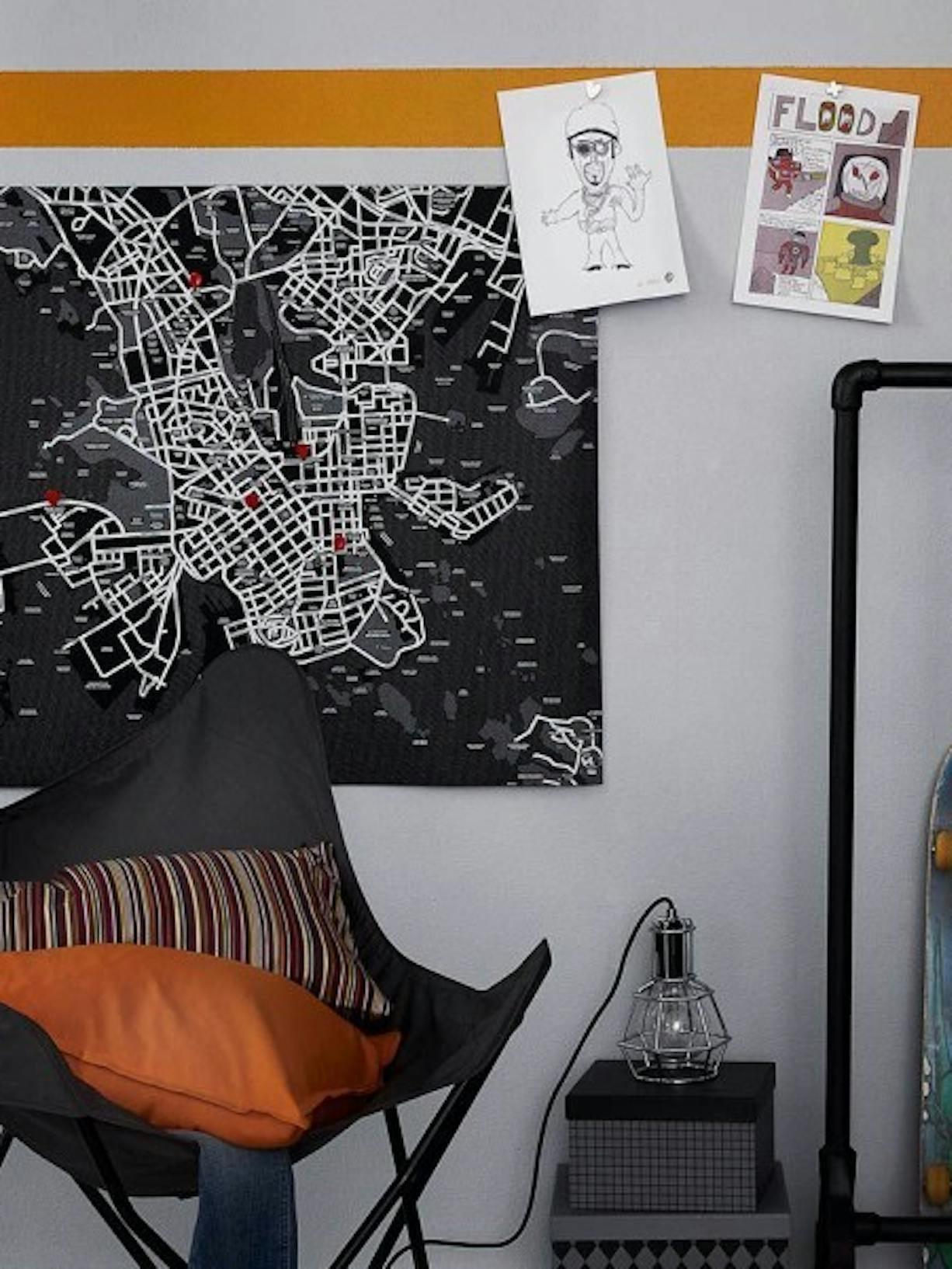 Picking up cool tones of grey with a light blue tinge, K498 Haven from our Feel the Colour collection creates the surrounding scene for our city skyline. A darker palette of N500 Agate and the shadowy Y498 Midnight was chosen to outline the city buildings, while K498 Haven formed the all-important window shapes.
We tinted our chosen colours with the full-matt Joker interior paint, a luxurious mixture that adds a depth of richness to shades with a beautiful silk-like effect. The Joker range is one of our most eco-certified products in the Tikkurila family. This solvent-free, wash-resistant formula boasts a low VOC-emission level and has been certified by the Allergy, Skin and Asthma Association (Helsinki), the Nordic Swan Ecolabel, the EU Ecolabel and holds the M1 Emission Classification. Making this eco-conscious paint a safe paint option for bedrooms in your home.
By day, the bold architectural design provides an impressive backdrop for a teenager's dream penthouse or a playful setting for kids to play as superheroes.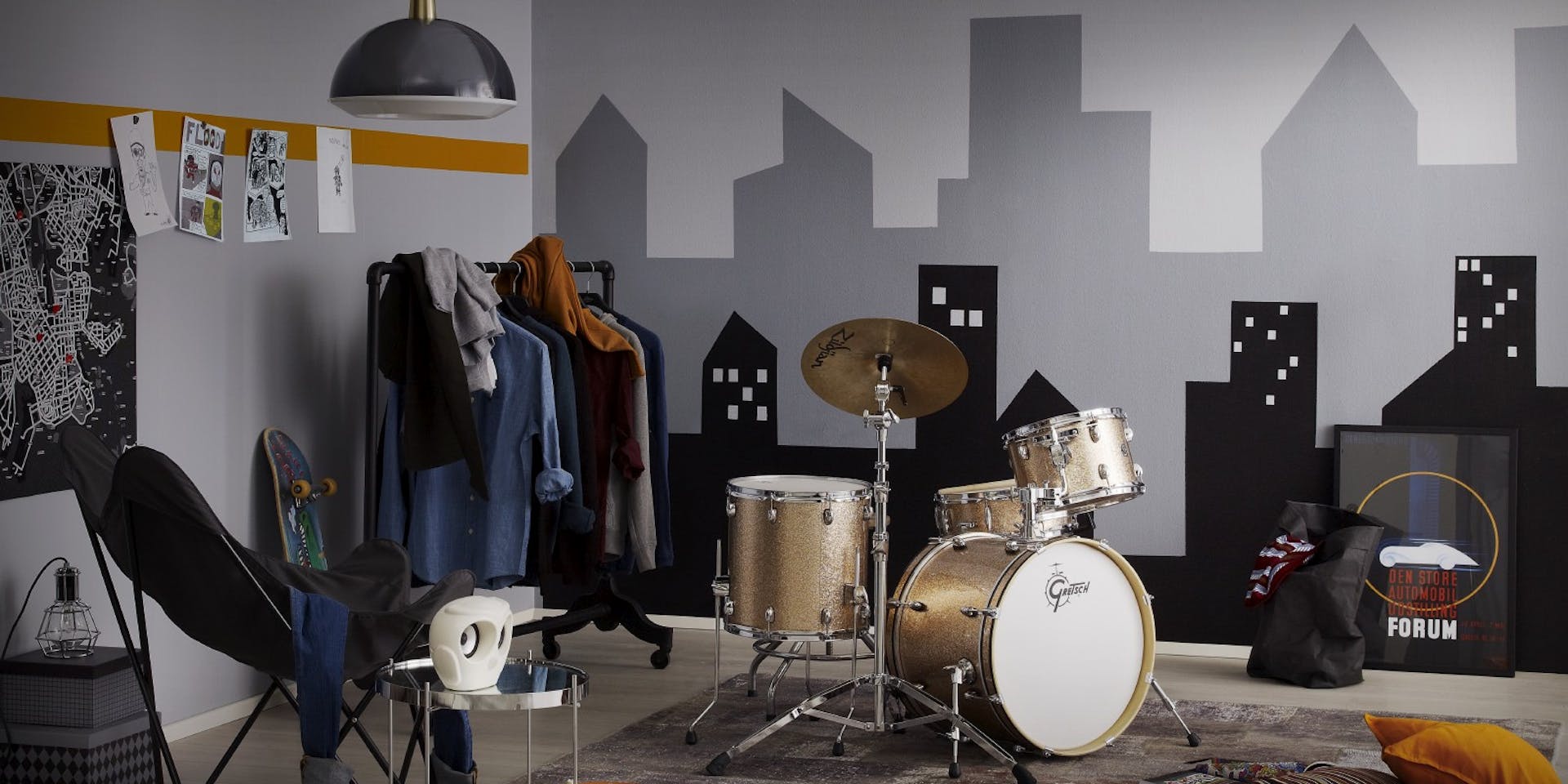 And when the lights are switched off, the city comes to life...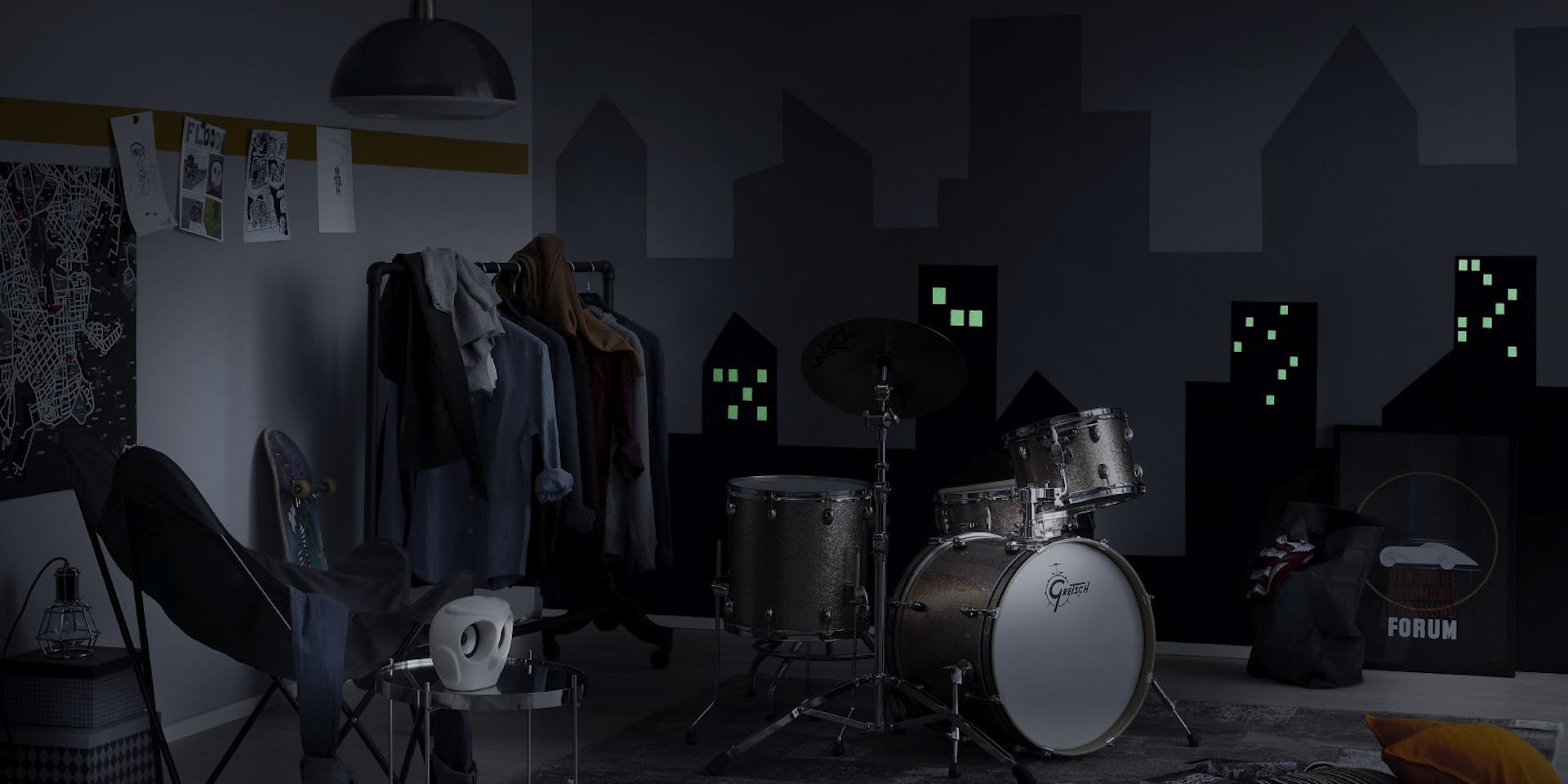 For those twinkling lights in your cityscape, the windows were treated with Taika Glow. Lasting up to six hours after the lights have gone out, this show-stopping paint will feel like you're sleeping under the stars. Not only can Taika Glow produce a dazzling glow in the dark wall and ceiling display, but it can also bring furniture items to life.
Go the extra mile with a contrasting orange magnetic strip to hang your child's favourite memorabilia or pictures. This effortless addition can be created using the cheerful shade of S309 Equator, pre-mixed with the Joker paint range, and our Magnetic surface paint.
Recreate your own twinkling skyline by watching our step-by-step video. Why not get the kids involved and turn this project into a family activity?
Putting the idea into practice
1. FIRST STEPS
Begin by wiping the surface of the wall clean. If the surface requires a deeper clean, use Tikkurila Maalipesu cleaning agent to remove unwanted dirt and leave to dry. Lay down dust sheets to protect the floorspace and cover mouldings and sockets with masking tape. If the wall surface needs to be levelled or the previous paint is a darker colour, apply a coat of Optiva Primer. Choose Optiva Primer in the shade close to your new topcoat.
2. PAINTING THE WALLS
Stir full-matt Joker paint, pre-mixed with the shade K498 Haven, well before use and thin with water, if necessary. Apply first coat with a paint roller or brush, and once dry, reapply a second coat if desired.
3. PAINTING THE SKYLINE
Draw the city silhouette using a spirit level to keep you guided and apply masking tape to the houses' outer edges. We used N500 Agate mixed with our Joker paint for the first layer and began painting the buildings' edges with a small roller. Apply 1-2 coats to fill in the rest of the skyline with a paint roller and allow to dry thoroughly.
Once thoroughly dried, draw the skyline's second layer on top of the layer you have just painted. Again, apply masking tape to the outer edges to create your filling area. Using the same painting technique, apply two coats of paint in the darker Y498 Midnight shade, pre-mixed with our Joker paint, and allow to dry thoroughly.
4. FINISHING TOUCHES
Mark out small areas for windows using masking tape, paint the windows with the original K498 Haven shade, and dry. Stir Taika Glow well before use and apply two layers liberally for a more substantial glow effect. Once finished, remove the masking tape immediately after painting and allow to dry.
Clean your tools with water and soap, or use Tikkurila Pensselipesu tool cleaner for more in-depth results. Make sure to follow the instructions on the label.