An outdated colour, missing hardware or a tired finish; when it becomes evident that your kitchen cabinets have seen better days, it can feel like your home is stuck in the past. Yet a dull interior can be effortlessly transformed into the kitchen of your dreams with a splash of paint. Ask any designer about the challenge of refreshing your home with minimal effort or financial burden, and they'll tell you the best results are often achieved with a coat of paint. Perhaps the most popular renovation of choice, painting your kitchen cabinets is the fastest way to create a cohesive look and give them the extra mileage for the years to come.
For a refreshed look, the kitchen cabinet surfaces and the shelving units system was revived with the semi-matt Helmi 30 furniture paint for its sophisticated satin finish. A tested replacement for traditional solvent furniture paint, the Helmi 30 paint boasts low VOC-emission level and has been certified by the Nordic Swan Ecolabel, the EU Ecolabel and holds the M1 Emission Classification. So the kitchen would draw focus and accentuate contrasting details, we tinted Helmi 30 with N439 Abyss from our Feel the Colour collection. The earthy tones of greenish-blue in this shade gives this kitchen diner a striking yet contemporary design.
Cooler dark tones with lighter warm notes are combined to create an environment harmonious with the home's interior design, with the warm off-white walls or the unexpected flash of pink (H320 Magnolia) when you move into the living room through the doorway. Combining the crisp white marble countertops, natural reclaimed wooden floors and punchy accent walls, this compact kitchen is no longer overlooked.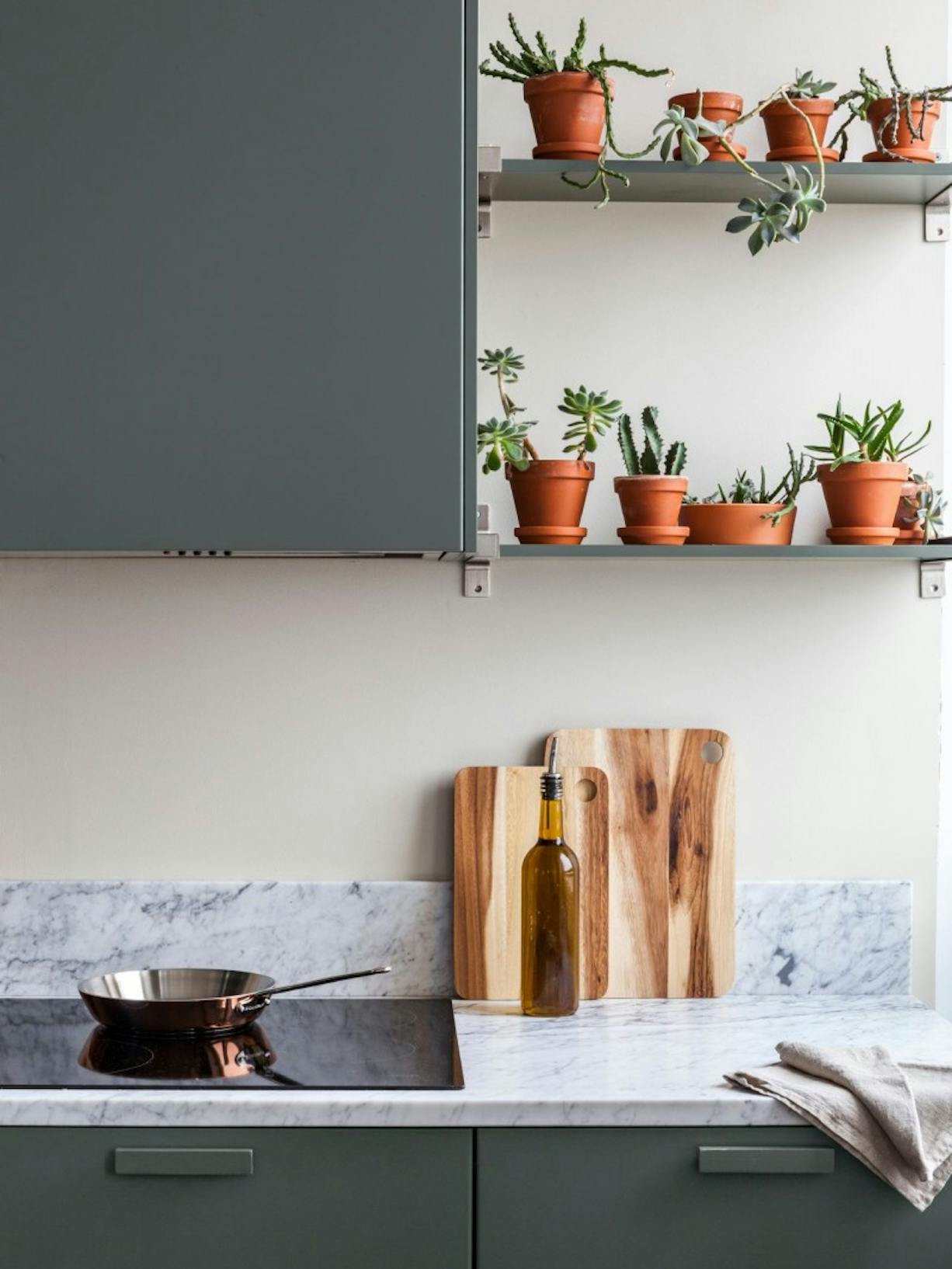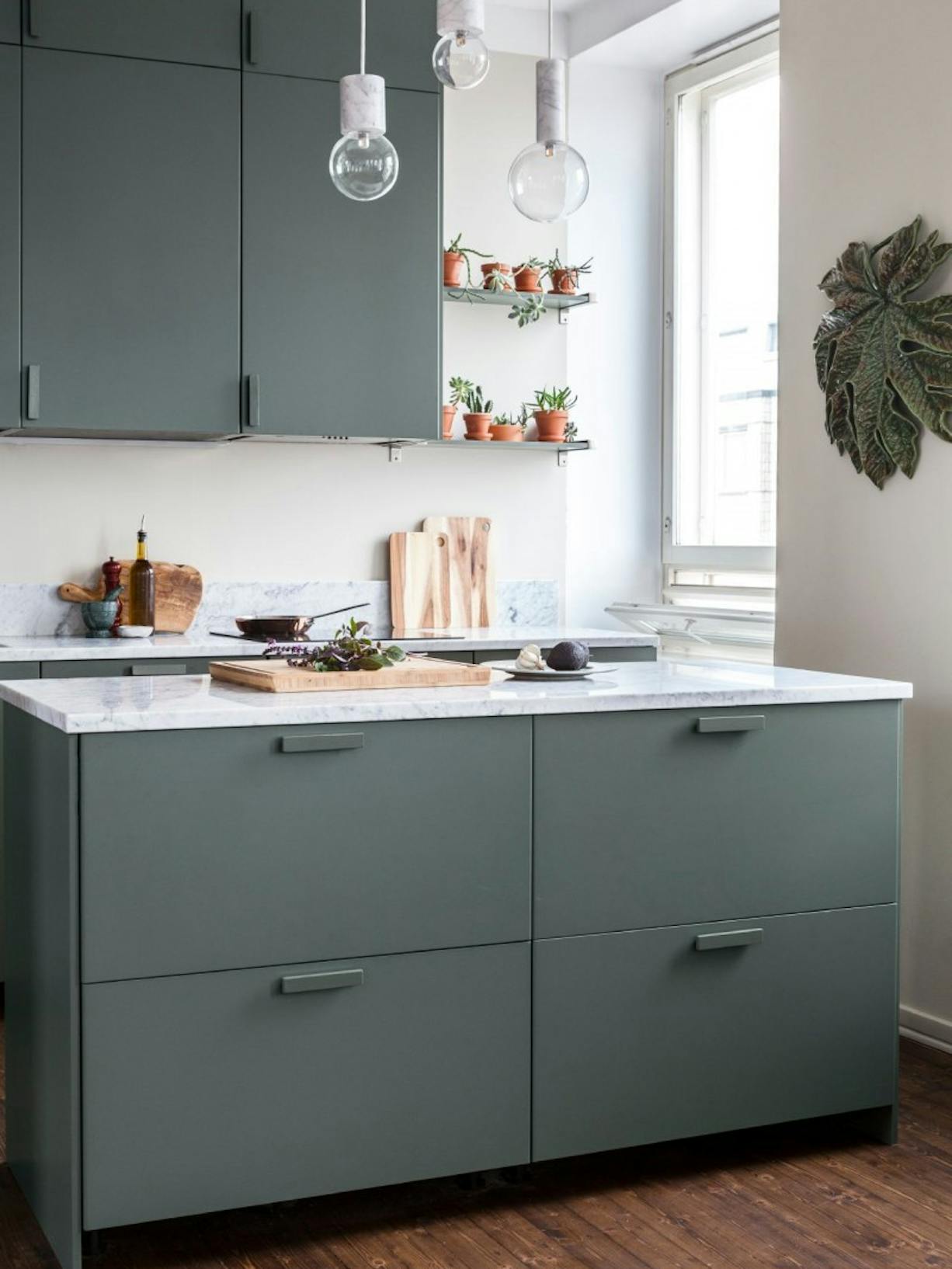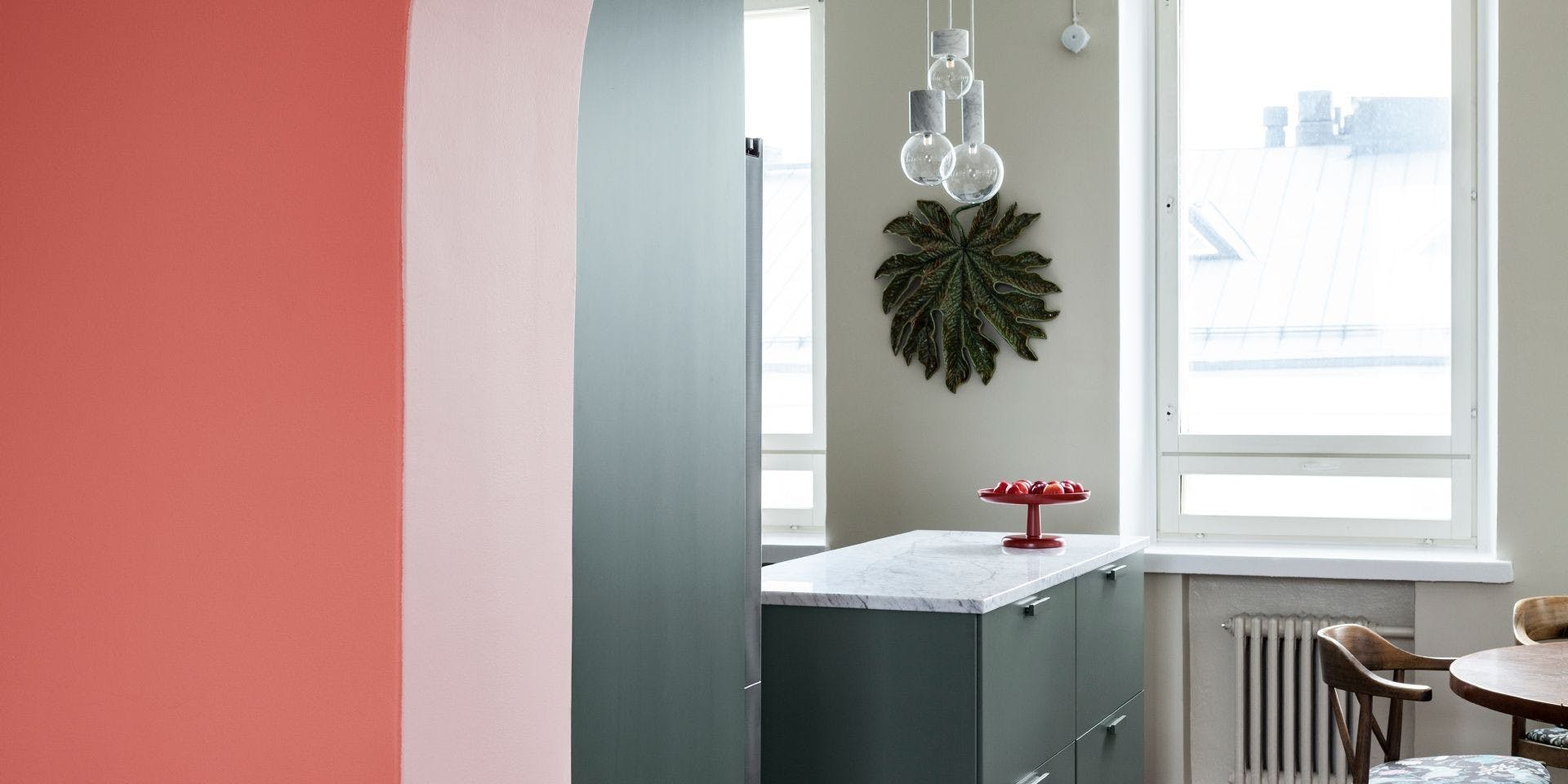 Putting the idea into practice
1. CLEAN AND SAND
Begin by cleaning the furniture's surface using Tikkurila Maalipesu cleaning agent – read instructions thoroughly before use. Sand hard, glossy and factory-painted surfaces non-glossy until matt and remove the sanding dust with a dust brush or a dust-binding cloth.
2. PRETREATMENT
Apply a single coat of Helmi Pohjamaali Primer to the cabinets using a furniture paint roller or a paintbrush. Leave to dry for 5 hours before painting a topcoat.
3. PAINTING
Finish with 1-2 coats of the semi-matt Helmi 30 furniture paint, pre-mixed with your chosen colour. Helmi 30 furniture paint can be recoated after 2-4 hours. On large surfaces, it is recommended to first apply the paint with a roller and then level the coat with a brush. If a different finish is required, opt for the matt Helmi 10 or glossy Helmi 80.