Imagine your younger self having the freedom to draw on the walls whenever you wanted, without the worry of getting into trouble – sounds tempting, doesn't it? A painted chalkboard wall makes for a great focal point in your child's bedroom, adding drama and depth to any room. So it's not surprising why this playful trend has become a go-to decorative element for interior designers. These fun but practical additions allow kids creativity to bloom, creating the perfect setting for pretend play, social games, and education. Plus, what child doesn't like to scribble away thoughts and musings crafted from their wildest imagination. The chalkboard wall can act as a child's very own art gallery, proudly showcasing their latest work – and who could say no to that?
One of the most exciting aspects of having a chalkboard in your child's bedroom is its creative potential. You can go for any shape or size, from a simple rectangle to something more fun such as mountains or a rocketship. This can even work in smaller nurseries when you don't want an imposing dark surface. We began our project by painting a chalkboard wall in a cloud-like shape to reflect the room's fresh atmosphere. Painted with Liitu Blackboard Paint, this easily applied paint can be tinted to any shade from our Feel the Colour 2020 range, so there is no need to restrict yourself to a traditional black or green. The light neutral tones of CLOISTER V487 fold into grey with a slight beige tinge and complements the monochromatic décor while keeping the nursery full of light.
If you can't bring yourself to painting a full-scale wall, it is just as easy to bring this idea to life by making your own chalkboard. While this method requires a few extra steps, it can unlock an array of exciting shapes like an oversized house. Or go smaller, and try out this idea with furniture. A cheap child's table can effortlessly become an ideal art station for playtime. Get creative and release your inner artist – your child will thank you later.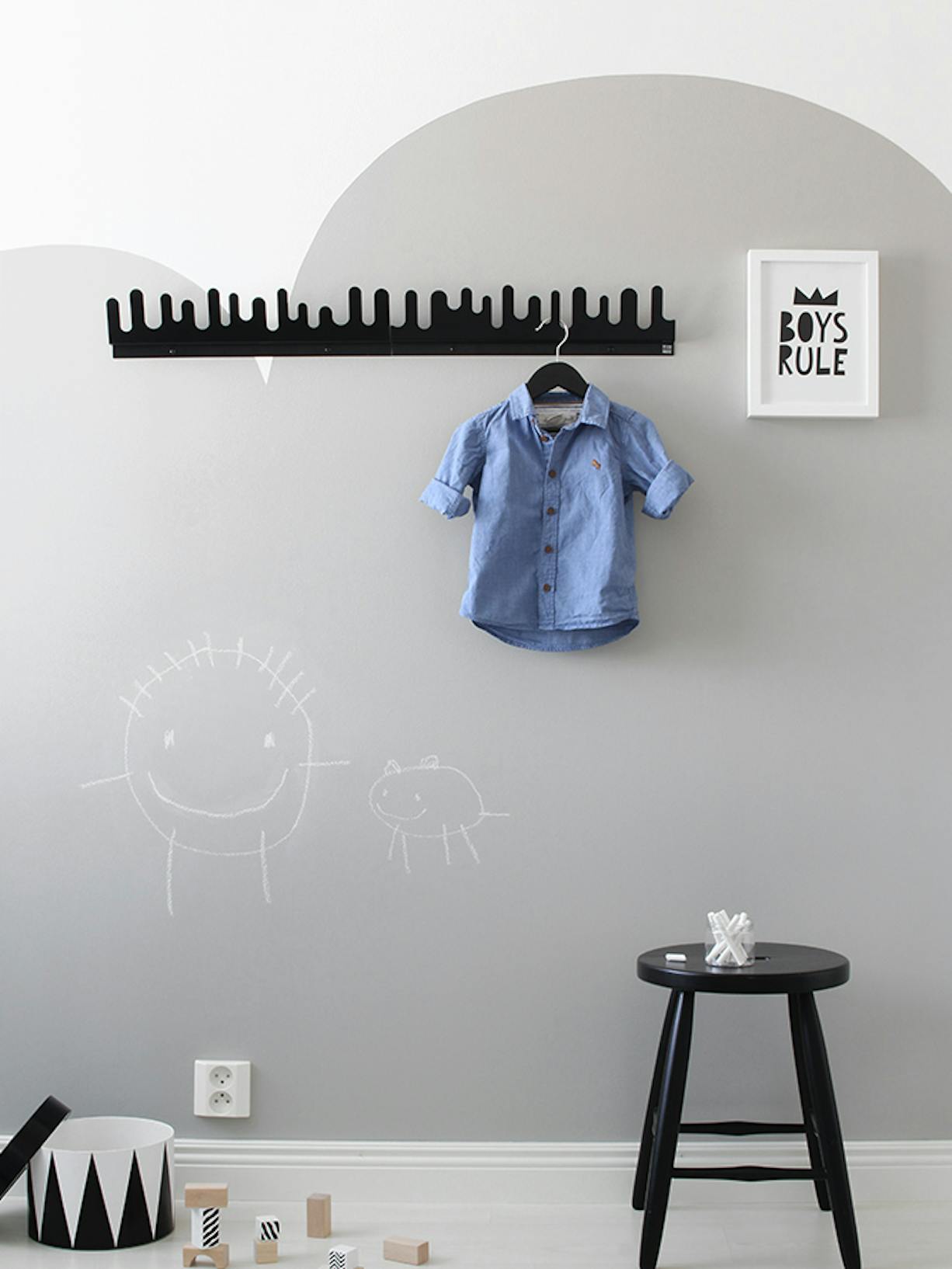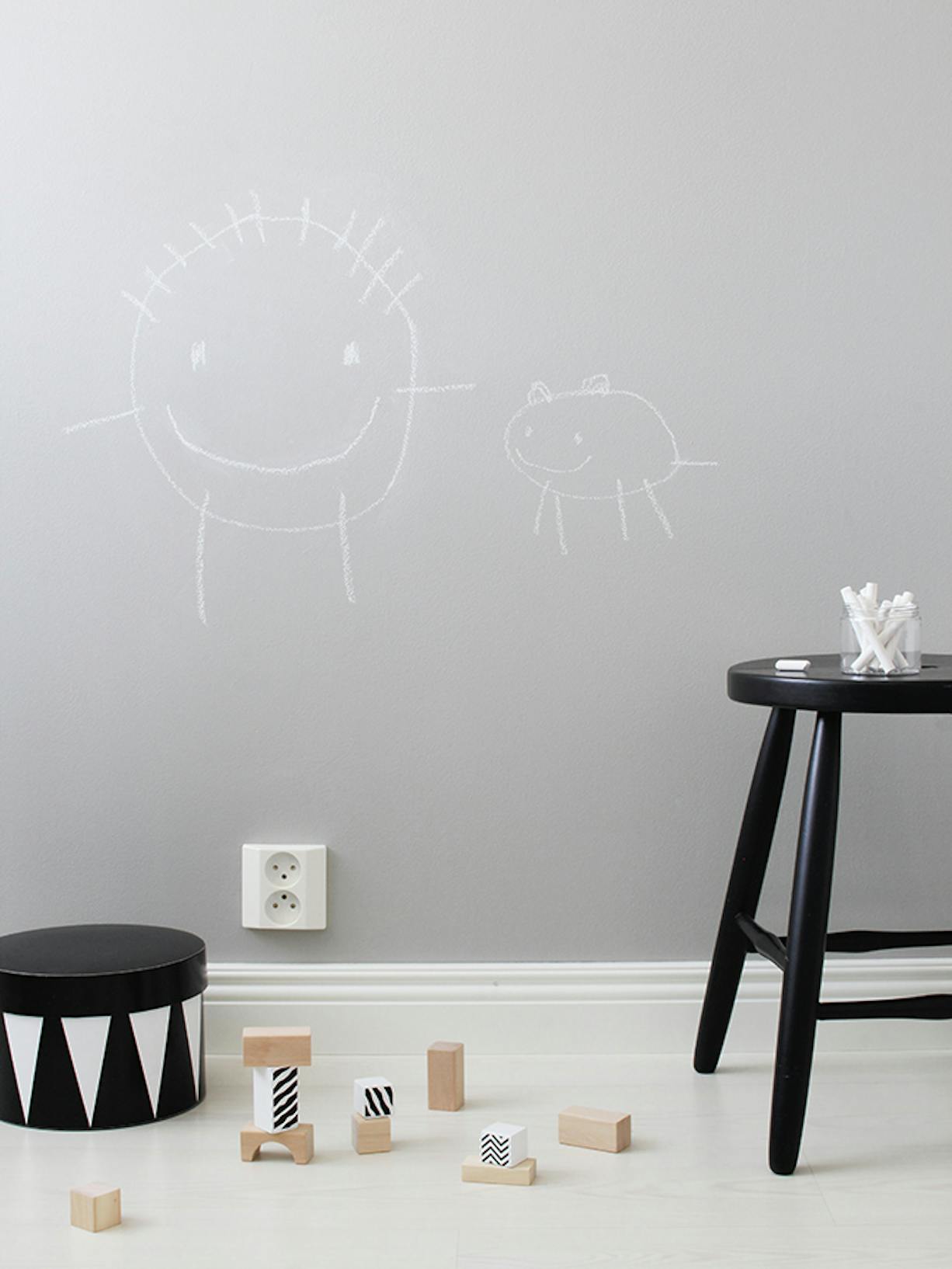 PAINTING YOUR OWN CHALKBOARD WALL: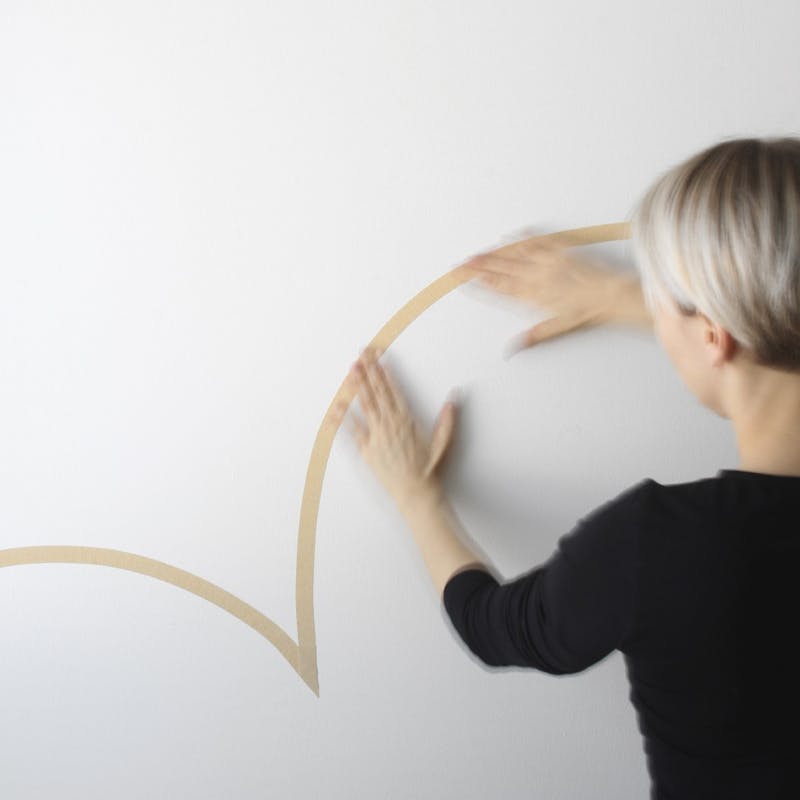 1. FIRST STEPS
Begin by wiping the surface of the wall clean. If the surface requires a deeper clean, use Tikkurila Maalipesu cleaning agent to remove unwanted dirt and leave to dry. Use a good quality filler like the Tikkurila Hole-in-1 to fill cracks, nail holes, blemishes, and levelling uneven surfaces. Finish by priming wall surfaces with Luja Universal Primer.
Use a flexible masking tape and begin to shape the outline of the chalkboard. For a neat outline, use a small painting brush and paint onto the tape's edge before filling in.
2. PRETREATMENT
Stir the Liitu Blackboard Paint, pre-mixed with your colour of choice, and begin to paint the outline first using a small paint roller.
3. PAINTING
Fill in the rest of the chalkboard by applying two coats with a larger roller, allowing the paint to dry for 6 hours between each applied coat. Once the last coat has been applied, allow the surface to set for one week before drawing on with chalk.