Whether you're planning a full-fledged renovation or just want to freshen up your space, follow along for our guide on how to introduce warm earth tones into your abode in a recent refresh completed by Tikkurila.
Our project was not short of space; the open-plan living room encompassed an entertaining space, a dining area, an office nook and a half-vaulted ceiling. Homes that embrace the beauty of living without walls can benefit from introducing a range of colours to open-plan spaces. Where a single room often serves multiple functions, colour blocking can help separate designated zones and offer aesthetically pleasing arrangements throughout your home.
To maintain the spirit of the high ceilings and the openness, we chose the Angora H466 shade as our focus colour. The warm pastel tones were enriched by the floods of light that poured into the living room, allowing the paint to retain the space's height while creating a soft and calm atmosphere. Across the living room, the walls remained as white to accentuate the Angora colour and act as a reflective surface for the light coming through the windows. While the wall surface of the office nook was painted in a contrasting but complementary colour. We used the crisp sea kale tones of Nephrite N494 to help create an environment that can become an area that can function as a study. The blend of these two primary colours, Angora and Nephrite, come together perfectly, creating a relaxing space to entertain guests.
Additional layered colour block panels were added to break up the room in the green shades of Nephrite and on a larger board in Abyss N439. These punchy colour accents offer focal points to large rooms, helping define areas in the home yet are soft enough to harmonise with the warm beige tones of Angora. Lastly, the console table was refreshed in Haven K498 for the light blue tones picked up the hues of the colour block panels and added depth to the background.
Even if your living space is on the smaller side, you can still use this colour palette's warmth in your home. Swap out the Angora H466 shade for the Nephrite N494 for your wall colour to create an intimate and snug atmosphere. While this may reduce the illusion of space and light in your living room, you will gain more from a room that makes a gentle statement. The soothing green tones can be offset by introducing the Angora shade through soft-touch textures and complemented further with warm spice tones of red, orange and brown for a contemporary feel.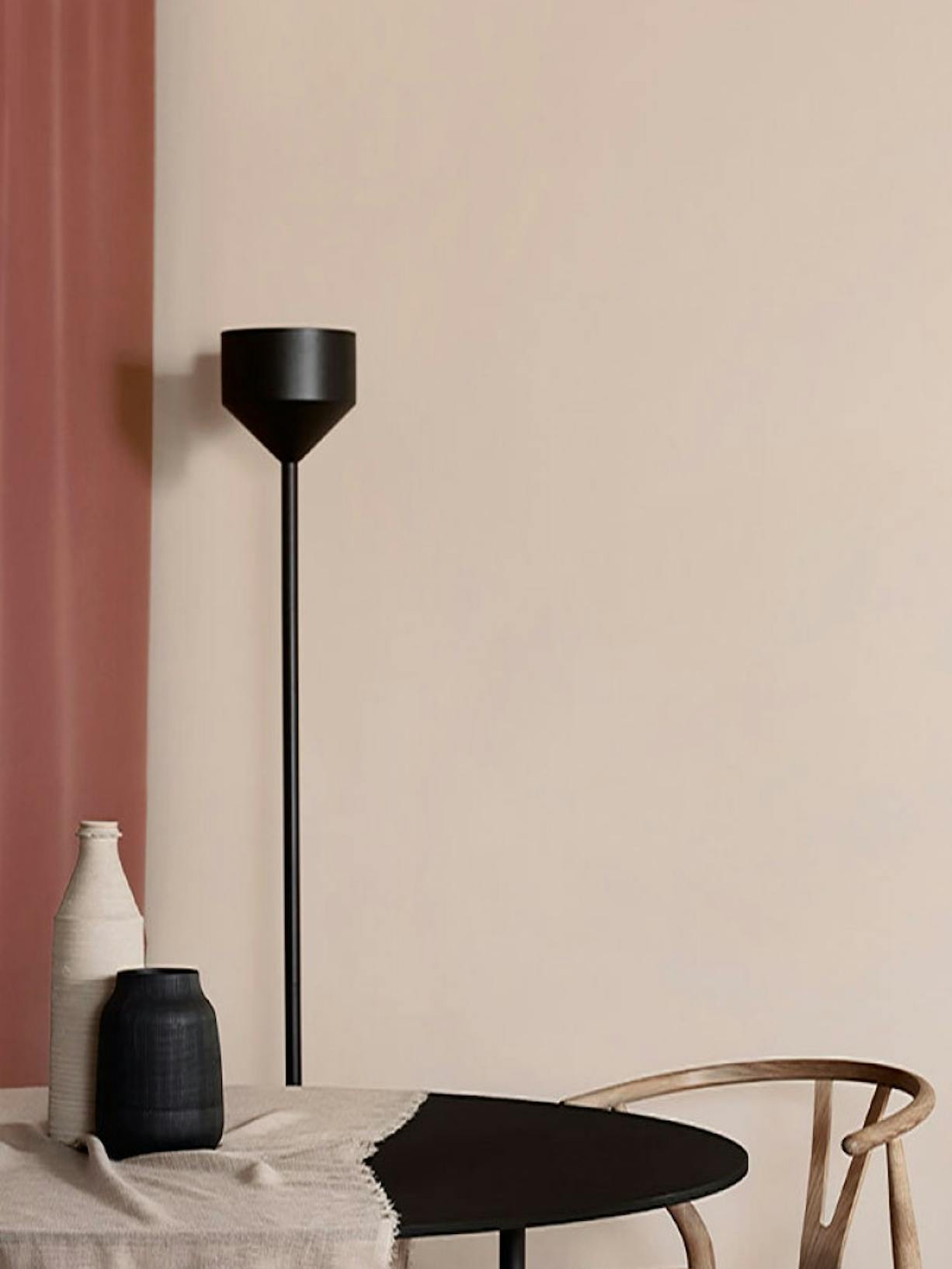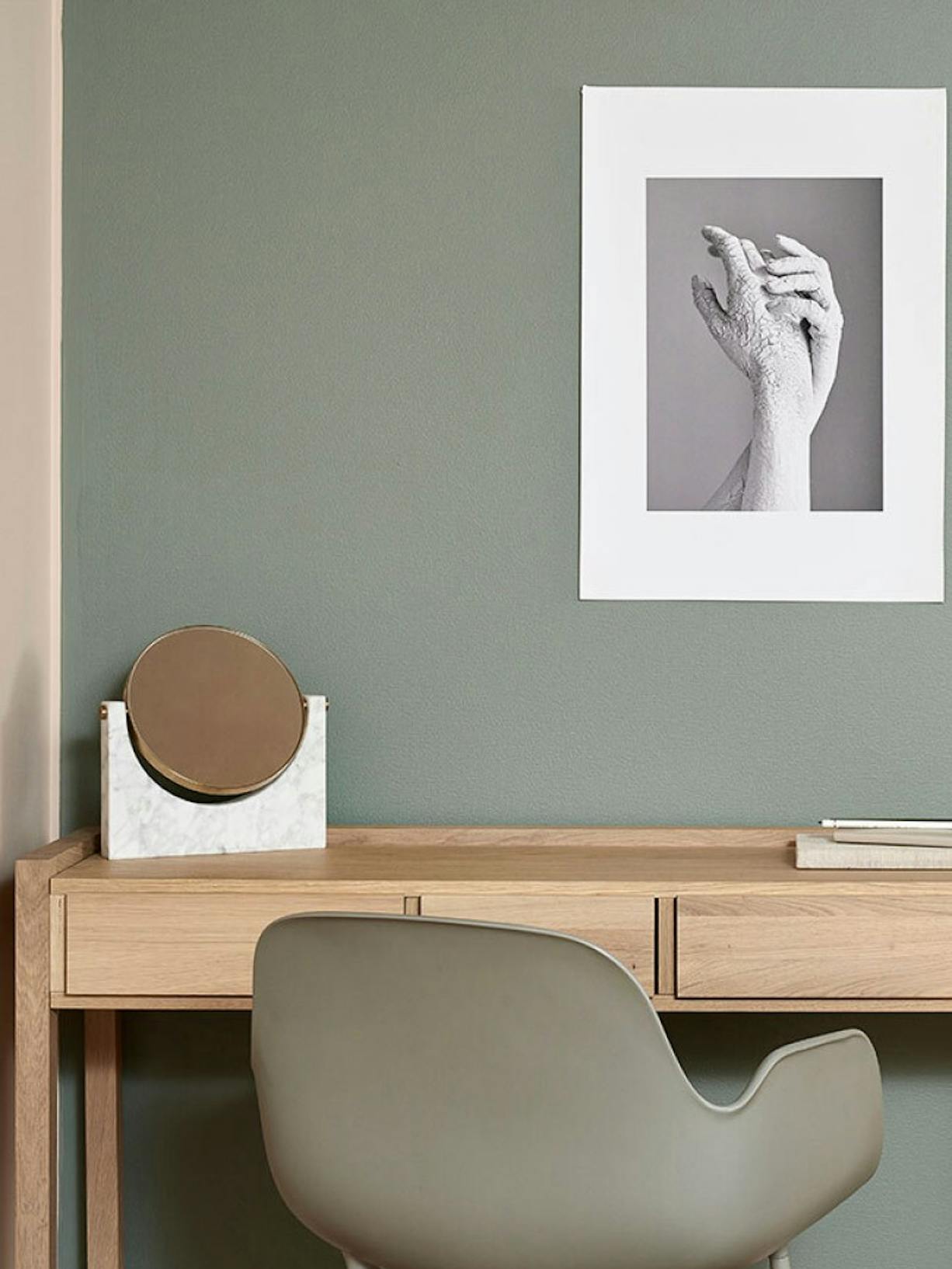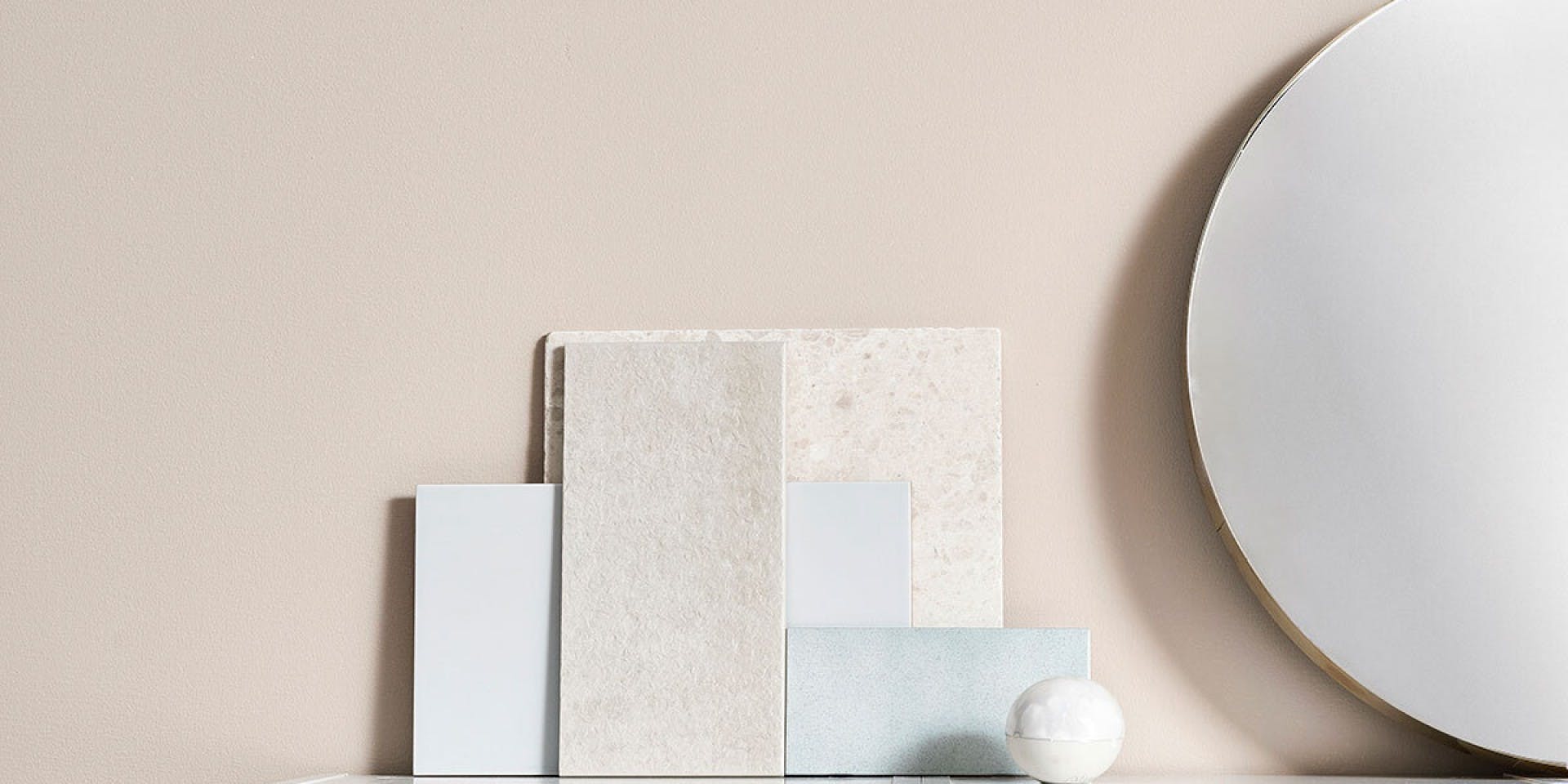 Recreate this look in your living room
1. FIRST STEPS
Begin by wiping the surface of the wall clean. If the surface requires a deeper clean, use Tikkurila Maalipesu cleaning agent to remove unwanted dirt and leave to dry. Lay down dust sheets to protect the floorspace and cover mouldings and sockets with masking tape.
2. PAINTING
Stir the full-matt Optiva Matt 5 interior paint and apply 2 coats using a paint roller with an extension pole. Finish the surface with long upward strokes using a roller. Remember to finish by rolling bottom-up strokes. Optiva Matt 5 can be recoated within a minimum of 4 hours of painting or may take longer depending on a low temperature or in conditions of increased humidity. Once completed, gently remove the masking tape before the paint has time to dry.
Clean your tools with water and soap, or use Tikkurila Pensselipesu tool cleaner for more in-depth results. Make sure to follow the instructions on the label.
1. CLEAN AND SAND
Begin again by cleaning the furniture's surface using Tikkurila Maalipesu cleaning agent - ensure to read instructions thoroughly before use. After drying time, sand the previous paint surface until matt and remove the sanding dust with a dust brush or a dust-binding cloth.
2. PRETREATMENT
Once dry, apply a single coat of Otex Akva Primer. We recommend tinting this to the same shade as the topcoat to be used next.
3. PAINTING
Finish with 2 coats of the matt Helmi 10 furniture paint, pre-mixed with your chosen colour, with a spray gun, a furniture paint roller, or a brush. Helmi 10 furniture paint can be recoated after 16 hours. If a different finish is required, opt for the glossy Helmi 80 or semi-matt Helmi 30.
All the colours featured in this post are part of the Tikkurila Feel The Colour 2020 range (which can be found on our Colour Directory page).