As part of our long-term commitment to sustainability, we provide high-quality paints that are safe for both the environment and your home. We offer a wide range premium eco-friendly paint products, making it easier for you to pick products that are healthy for your home and help our planet. The big difference between eco-friendly paint and the less planet friendly paint comes down the to the chemicals that are used, how they're sourced, and whether they will release emissions into your home.
Quality, sustainability and safety are our guiding principles in raw material selection and product development, and throughout all our operations. Our goal is to continuously reduce our environmental impact by investing in the development and promotion of water-borne and low-emission paints.
Our Bestselling Eco Paints
What Makes Our Interior Paint Environmentally Friendly?
Water-based paints are low-emission paints that ensure better indoor air quality and smaller health risks. What's more, water-based paints are nearly odourless, which means that it's safe to be in the same room soon after painting. Water-based paints are proven to be safe, and using them is easy, as they dry fast, and the painting tools can be washed with water.
Volatile Organic Compounds (VOCs) are the gases given off by paints that contain solvents, which are harmful to people's health and contribute to global warming. To counteract this and reduce our environmental impact, Tikkurila are the forerunner in low and zero VOC paints, ensuring a large proportion of our interior and exterior paints are zero or low VOC making it safer for you and the planet.
Our interior paint products are breathable which helps the walls and buildings to breathe by allowing water to evaporate which in turn prevents damp. Non-breathable paint can cause water to become trapped in the walls and build up, causing damp problems. Our breathable paints allow moisture to easily flow through the surface, reducing condensation, mould and mildew. The higher the water vapour permeability of the product, the more breathable it is.
For a paint to be classed as breathable it should have an SD value of 1 or lower; the lower the value the more breathable the paint. Tikkurila's testing is conducted in accordance with PN-EN ISO 7783:2002 and PN-EN 1062-1:2005 standards, which can be found on individual product pages where applicable.
Eco-labelled Paint Products
Several hundred Tikkurila Group products have been eco-labelled. The Nordic ecolabel, the Swan, is a testimony to the proven safety and environmental effects of the product. What is more, a Swan-labelled product is durable. Its technical quality – such as adhesion, wear-resistance and hiding power – has been tested and verified. The M1 certification granted to products by the Finnish Building Information Foundation guarantees low emissions. The products that have been granted the allergy label by the Finnish Allergy and Asthma Federation meet stringent product-specific criteria and do not contain fragrances, irritants, and other allergy-causing agents.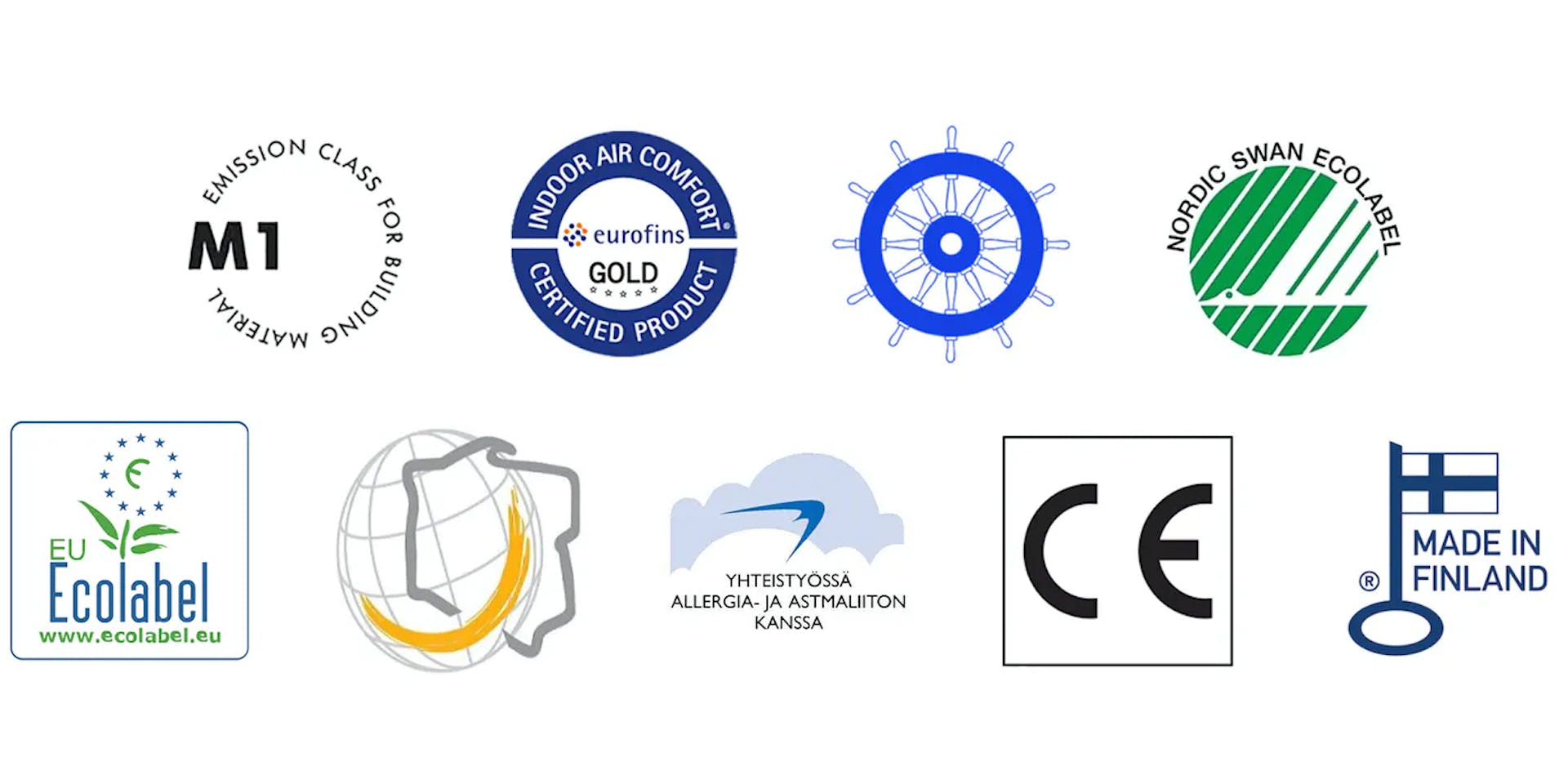 Eco Classifications and Certificates
We have a growing portfolio of market-leading breathable systems which have been stringently and independently tested to the highest Scandinavian and European standards.
Tikkurila do not use the accreditations we hold to market ourselves as a natural or Eco paint manufacturer. We believe providing safe products to our customers is a normal function as such all of our interior paints are accredited and tested to the highest standards.
The goal is for water-based products from Tikkurila to account for 100% of consumer and decorative interior paint sales. (Water-based interior paints accounted for 98.9 (98.7) percent of EU sales in 2017.) This ensures we are pioneering sustainable solutions that do not emit toxic compounds into the air and only contain naturally occurring trace amounts of VOC.