Texture is one of those elements that can elevate an already polished room and add a sophistication that comes with interior design experience, but it is often an aspect we forget to give attention to in the design process. When executed successfully, textured elements can add layers of depth and dimension to a room and create playful elements without relying on brighter colours. Even the most colour-averse can reap the benefits of utilising texture, whether this is demonstrated through choice of paint, wall surfaces or more physical aspects such as a fireplace or soft-furnishing.
Here is one way to create an eye-catching focal wall for your living space.
Take a colour sample of your chosen shade and consider how natural light's direction will affect the wall surface or panel size. For this, we decided the cool, calming tones of J442 Menthol would complement the intense emerald M442 Fjord shade when layered. The easiest way to understand your colour is to take a tester and try it out at different times of the day to see how the results are affected by natural and artificial light. By completing this initial step, the use of the silk paper and the glossy Helmi 80 furniture paint will bounce and reflect natural light and shadows, creating a mystical feel to your living space.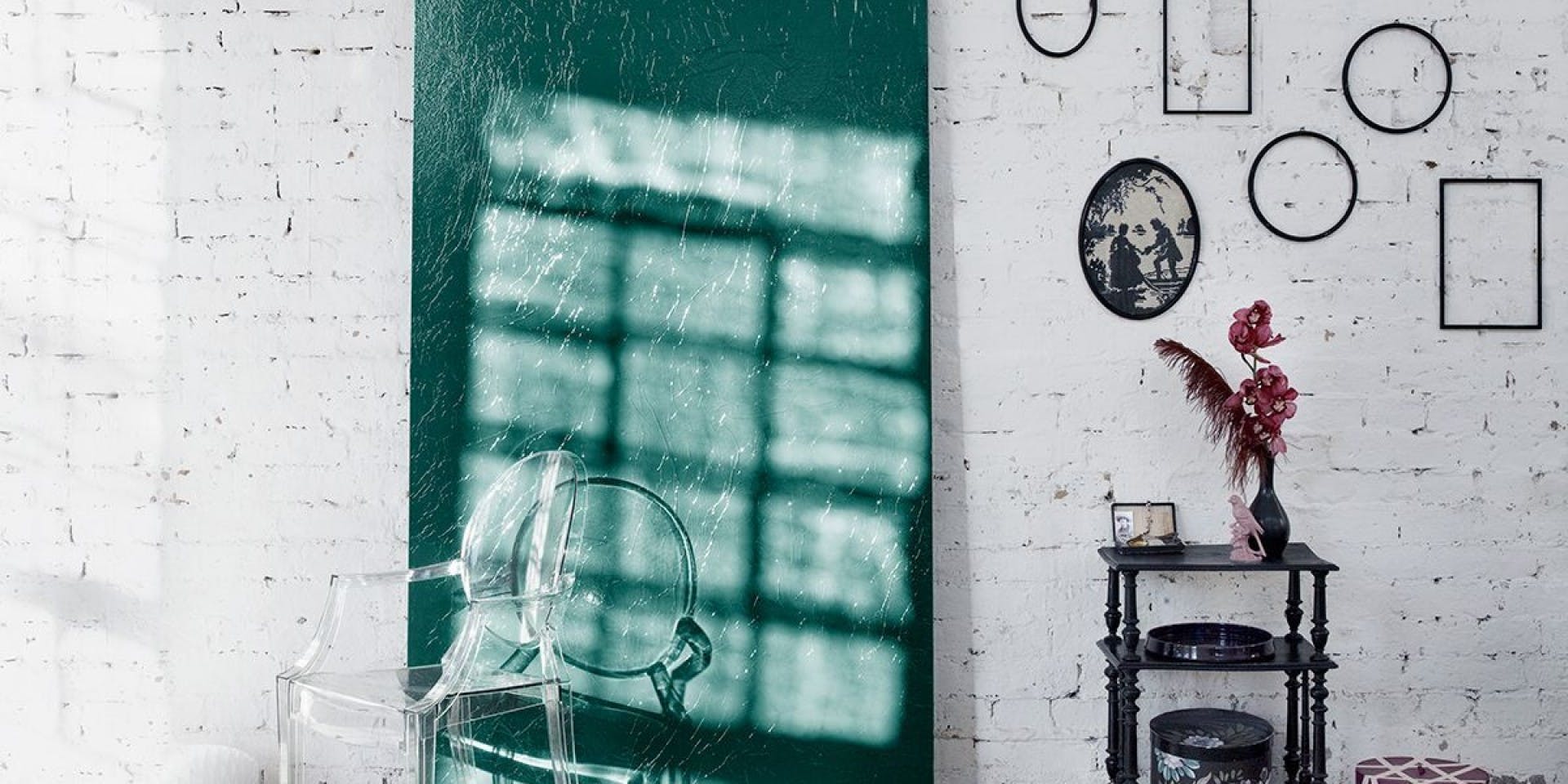 Putting the idea into practice
1. PRETREATMENT
Before you begin painting, lay down dust sheets to protect the floorspace. Once dry, apply a single coat of Otex Akva Primer, which has been tinted to the topcoat's shade for the wall surface or panel - we've used J442 Menthol.
2. PAINTING
Using a paint roller, apply a coat of glossy Helmi 80 furniture paint to a slightly larger area than the silk paper sheet. Press the silk paper onto the wet surface and allow the paper to form creased lines. Apply the paint evenly onto the paper, working away from the centre towards the edges and smoothing out any air bubbles. Repeat until you have covered the entire surface and allow the surface to dry thoroughly.
3. FINISHING TOUCHES
To finish off the wall surface or panel, apply one more coat of the glossy Helmi 80 furniture paint in a deeper shade of emerald green such as the M442 Fjord.
Clean your tools with water and soap, or use Tikkurila Pensselipesu tool cleaner for more in-depth results. Make sure to follow the instructions on the label.